Rrrrrrr… Stumbled across this the other day while changing some settings on facebook.
Language – English (Pirate)

If you love Pirates, and find the need to speak like one, then this setting is for you!
To change your Facebook to read like a pirate head to your settings.


Click on the Language tab and then change your language to English (Pirate). (If you can't find it, you may have to click "Translations" and install the addon.)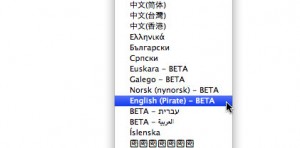 Now head to your page and enjoy reading pirate talk every time you interact with Facebook!